Print
Microbiology & Molecular Biology Group
Chairman: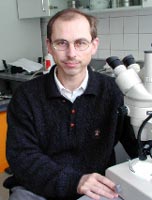 Dipl.Ing. Dr. Andreas ADLER
AGES – Austrian Agency for Health and Food Safety
Center for Analytics and Microbiology
Wieningerstraße 8, A-4021 Linz
phone: ++43 (0) 732/381 261-257 Fax.:++43 (0) 732/385 482
e-mail: This email address is being protected from spambots. You need JavaScript enabled to view it.
Objectives:
In a social setting with growing interest in questions of quality, the main focus of the Expert Group lies upon microbiological aspects of high-quality agricultural production as well as upon an utmost safety regarding food and nutrition. Recently, this focus has been supplemented by aspects and applications of molecular biology as well.
Activities:
When the Microbiology& Molecular Biology Expert Group was founded in 1976, scientists had just started to attach higher priority to the microbial status of agricultural produce and equipment, a fact that was partly due to the growing importance of the issue of mycotoxins. In correlation with the broad meaning of the terms microbiology and molecular biology, which both cover a wide range of working methods, targets and interests, the activities of the group touch numerous sub-areas of agricultural research and investigation. Quite a number of tasks and research methods can be equally assigned to the various sub-areas of investigation, thus representing the predominant common subject of research of our Expert Group. Another aspect that is common within all the Group's members is a specific, microbiologically dominated approach towards all scientific issues.
With regard to the Group's concern to encourage the scientific work of its members, we organize Expert Group's Meetings with lectures and discussions, and additional special work-group meetings, in order to achieve the following aims: interchange of knowledge and experience, uniform reporting and assessment procedures, joint opinions and statements, reports on the development of international organizations, development and improvement of new methods, or collaborative studies. The fact that subjects overlap and are shared by different scientific fields, makes it necessary for the Microbiology & Molecular Biology Group to engage in close and interdisciplinary cooperation with other Expert Groups. However, the same fact also predestines the Group as a place where specialists of various fields can start fruitful discussions. Thus the "mycotoxin work group" within the Microbiology & Molecular Biology Group has turned out to be an institution of worldwide recognition in the realm of mycotoxins in agriculture.
Outlook:
One future concern of the Group is to pursue the current activities and to continue serving as a promoter of interdisciplinary cooperation in the fields of microbiological and molecular research and investigation, especially for the subjects of high quality agricultural production and food safety.